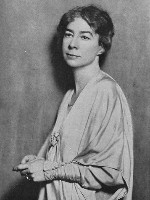 Sara Teasdale (August 8, 1884 – January 29, 1933) was an American lyric poet. She was born Sarah Trevor Teasdale in St. Louis, Missouri, and used the name Sara Teasdale Filsinger after her marriage in 1914.
In 1918 she won a Pulitzer Prize for her 1917 poetry collection Love Songs.
She had poor health for much of her childhood, so she was home schooled until age 9. It was at age 10 that she was well enough to begin school. She started at Mary Institute in 1898, but switched to Hosmer Hall in 1899, graduating in 1903. The Teasdale family lived at 3668 Lindell Blvd. and then 38 Kingsbury Place in St. Louis, Missouri. Both homes were designed by Sara's mother. The house on Kingsbury Place had a private suite for Sara on the second floor. Guests entered through a separate entrance and were admitted by appointment. This suite is where Sara worked, slept, and often dined alone.
From 1904 to 1907, Teasdale was a member of The Potters, led by Lillie Rose Ernst, a group of female artists in their late teens and early twenties who published, from 1904 to 1907, The Potter's Wheel, a monthly artistic and literary magazine in St. Louis.
Teasdale's first poem was published in William Marion Reedy's Reedy's Mirror, a local newspaper, in 1907. Her first collection of poems, Sonnets to Duse and Other Poems, was published that same year.
Teasdale's second collection, Helen of Troy and Other Poems, was published in 1911. It was well received by critics, who praised its lyrical mastery and romantic subject matter.
From 1911 to 1914 Teasdale was courted by several men, including the poet Vachel Lindsay, who was truly in love with her but did not feel that he could provide enough money or stability to keep her satisfied. She chose to marry Ernst Filsinger, a longtime admirer of her poetry, on December 19, 1914.
Teasdale's third poetry collection, Rivers to the Sea, was published in 1915. It was and is a bestseller, being reprinted several times. In 1916 she and Filsinger moved to New York City, where they lived in an Upper West Side apartment on Central Park West.
In 1918 she won a Pulitzer Prize for her 1917 poetry collection Love Songs. It was "made possible by a special grant from The Poetry Society"; however, the sponsoring organization now lists it as the earliest Pulitzer Prize for Poetry (inaugurated 1922).
Filsinger's constant business travel caused Teasdale much loneliness. In 1929, she moved interstate for three months, thereby satisfying the criteria to gain a divorce. She did not wish to inform Filsinger, only doing so at her lawyers' insistence as the divorce was going through. Filsinger was shocked. After the divorce she moved only two blocks from her old home on Central Park West. She rekindled her friendship with Vachel Lindsay, who was now married with children.
In 1933, she died by suicide, overdosing on sleeping pills. Lindsay had died by suicide two years earlier. She is interred in Bellefontaine Cemetery in St. Louis.

Works
Sonnets to Duse and Other Poems (1907)
Helen of Troy and Other Poems (1911)
Rivers to the Sea (1915)
Love Songs (1917)
Flame and Shadow (1920)
Dark of the Moon (1926)
Stars To-night (1930)
Strange Victory (1933)
Barter (1918)