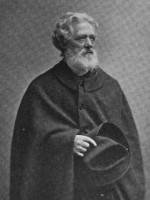 Philip James Bailey was an English Spasmodic poet, best known as the author of Festus.
Philip James Bailey was born on 22 April 1816 in Nottingham, the only son of Thomas Bailey by his first wife, Mary Taylor. He was brought up on the poetry of Lord Byron. Educated in Nottingham, he was tutored in classics by Benjamin Carpenter, a Unitarian minister. Aged 15, he matriculated at Glasgow University. Dropping the idea of becoming a Presbyterian minister, he began in 1833 to study law in a solicitor's office in London. On 26 April 1834 he entered Lincoln's Inn, and was called to the bar on 7 May 1840, but never practiced law.
In 1836 Bailey retired to his father's house at Old Basford, near Nottingham, to write. In 1856 he received a civil list pension in recognition of his literary work. In 1864 he moved to Jersey, and travelled. In 1876 he returned to England, settling first at Lee near Ilfracombe, and in 1885 at Blackheath. Finally he retired to Nottingham. In June 1901, he received the honorary Doctor of Laws (DLL) from the University of Glasgow.
Bailey died after an attack of influenza on 6 September 1902. He was buried in Nottingham Rock (aka Church) Cemetery.
Read More »