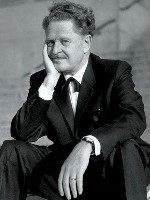 Nâzım Hikmet Ran (15 January 1902 – 3 June 1963), commonly known as Nâzım Hikmet (Turkish: [naːˈzɯm hicˈmet], was a Turkish poet, playwright, novelist, screenwriter, director and memoirist. He was acclaimed for the "lyrical flow of his statements". Described as a "romantic communist" and "romantic revolutionary", he was repeatedly arrested for his political beliefs and spent much of his adult life in prison or in exile. His poetry has been translated into more than fifty languages.
Early life
Ran was born on 15 January 1902, in Selânik (Salonica), where his father was serving as an Ottoman government official. He attended the Taşmektep Primary School in the Göztepe district of Istanbul and later enrolled in the junior high school section of the prestigious Galatasaray High School in the Beyoğlu district, where he began to learn French; however, in 1913, he was transferred to the Numune Mektebi in the Nişantaşı district. In 1918, he graduated from the Ottoman Naval School on Heybeliada, one of the Princes' Islands located in the Sea of Marmara. His school days coincided with a period of political upheaval, during which the Ottoman government entered the First World War, allying itself with Germany. For a brief period he was assigned as a naval officer to the Ottoman cruiser Hamidiye; however in 1919 he became seriously ill and, not being able to fully recover, was exempted from naval service in 1920.
In 1921, together with his friends Vâlâ Nureddin (Vâ-Nû), Yusuf Ziya Ortaç and Faruk Nafiz Çamlıbel, he went to İnebolu in Anatolia in order to join the Turkish War of Independence; from there he (together with Vâlâ Nûreddin) walked to Ankara, where the Turkish liberation movement was headquartered. In Ankara they were introduced to Mustafa Kemal Pasha (Atatürk) who wanted the two friends to write a poem that would invite and inspire Turkish volunteers in Istanbul and elsewhere to join their struggle. This poem was much appreciated, and Muhittin Bey (Birgen) decided to appoint them as teachers to the Sultani (high-college) in Bolu, rather than sending them to the front as soldiers. However, their communist views were not appreciated by the conservative officials in Bolu, and so the two decided to go to Batumi in the Georgian Soviet Socialist Republic to witness the results of the Russian Revolution of 1917, arriving there on 30 September 1921. In July 1922, the two friends went to Moscow, where Ran studied Economics and Sociology at the Communist University of the Toilers of the East in the early 1920s. There, he was influenced by the artistic experiments of Vladimir Mayakovsky and Vsevolod Meyerhold, as well as the ideological vision of Lenin.
Style and achievements
Despite writing his first poems in syllabic meter, Nazım Hikmet distinguished himself from the "syllabic poets" in concept. With the development of his poetic conception, the narrow forms of syllabic verse became too limiting for his style and he set out to seek new forms for his poems.
He was influenced by the young Soviet poets who advocated Futurism. On his return to Turkey, he became the charismatic leader of the Turkish avant-garde, producing streams of innovative poems, plays and film scripts. In Moscow in 1922, breaking the boundaries of syllabic meter, he changed his form and began writing in free verse, which harmonized with the rich vocal properties of the Turkish language.
He has been compared by Turkish and non-Turkish men of letters to such figures as Federico García Lorca, Louis Aragon, Vladimir Mayakovsky, Faiz Ahmed Faiz and Pablo Neruda. Although Ran's work bears a resemblance to these poets and owes them occasional debts of form and stylistic device, his literary personality is unique in terms of the synthesis he made of iconoclasm and lyricism, of ideology and poetic diction.
Many of his poems have been set to music by the Turkish composer Zülfü Livaneli and Cem Karaca. A part of his work has been translated into Greek by Yiannis Ritsos, and some of these translations have been arranged by the Greek composers Manos Loizos and Thanos Mikroutsikos.
Because of his political views his works were banned in Turkey from 1938 to 1965.
Later life and legacy
Ran's imprisonment in the 1940s became a cause célèbre among intellectuals worldwide; a 1949 committee that included Pablo Picasso, Paul Robeson, and Jean-Paul Sartre campaigned for his release.
On 8 April 1950, Ran began a hunger strike in protest against the Turkish parliament's failure to include an amnesty law in its agenda before it closed for the upcoming general election. He was then transferred from the prison in Bursa, first to the infirmary of Sultanahmet Jail in Istanbul, and later to Paşakapısı Prison. Seriously ill, Ran suspended his strike on 23 April, the National Sovereignty and Children's Day. His doctor's request to treat him in hospital for three months was refused by officials. So, as his imprisonment status had not changed, he resumed his hunger strike on the morning of 2 May.
Ran's hunger strike caused a stir throughout the country. Petitions were signed and a magazine named after him was published. His mother, Celile, began a hunger strike on 9 May, followed by renowned Turkish poets Orhan Veli, Melih Cevdet and Oktay Rıfat the next day. In light of the new political situation after the 1950 Turkish general election, held on 14 May, the strike was ended five days later, on 19 May, Turkey's Commemoration of Atatürk, Youth and Sports Day, he was finally released through a general amnesty law enacted by the new government.
On 22 November 1950, the World Council of Peace announced that Nazım Hikmet Ran was among the recipients of the International Peace Prize, along with Pablo Picasso, Paul Robeson, Wanda Jakubowska and Pablo Neruda.
Later on, Ran escaped from Turkey to Romania on a ship via the Black Sea, and from there moved to the USSR. Because in the Soviet bloc the only recognized Turkish minority existed in communist Bulgaria, the poet's books were immediately brought out in this country, both in Turkish originals and Bulgarian translations. The communist authorities in Bulgaria celebrated him in Turkish and Bulgarian publications as 'a poet of liberty and peace.' The goal was to discredit Turkey presented as a 'lackey of the imperialist' United States in the eyes of Bulgaria's Turkish minority, many of whom desired to leave for or were expelled to Turkey in 1950-1953.
When the EOKA struggle broke out in Cyprus, Ran believed that the population of Cyprus would be able to live together peacefully, and called on the Turkish minority to support the Greek Cypriots' demand for an end to British rule and Union with Greece (Enosis). Hikmet drew negative reaction from Cyprus Turkish community due to his opinions.
Persecuted for decades by the Republic of Turkey during the Cold War for his communist views, Ran died of a heart attack in Moscow on 3 June 1963 at 6.30 am while picking up a morning newspaper at the door of his summer house in Peredelkino, far away from his beloved homeland. He is buried in Moscow's famous Novodevichy Cemetery, where his imposing tombstone is still today a place of pilgrimage for Turks and many others from around the world. His final wish, never carried out, was to be buried under a plane-tree (platanus) in any village cemetery in Anatolia.
Despite his persecution by the Turkish state, Nâzım Hikmet has always been revered by the Turkish nation. His poems depicting the people of the countryside, villages, towns and cities of his homeland (Memleketimden İnsan Manzaraları, i.e. Human Landscapes from my Country), as well as the Turkish War of Independence (Kurtuluş Savaşı Destanı, i.e. The Epic of the War of Independence), and the Turkish revolutionaries (Kuvâyi Milliye, i.e. Force of the Nation) are considered among the greatest patriotic literary works of Turkey.
Following his death, the Kremlin ordered the publication of the poet's first-ever Turkish-language collected works in communist Bulgaria, where at that time a large and still recognized Turkish national minority existed. The eight volumes of these collected works, Bütün eserleri, appeared at Sofia between 1967 and 1972, that is, in the very last years of the existence of the Turkish minority educational and publishing system in Bulgaria.
Ran had Polish and Turkish citizenship. The latter was revoked in 1959, and restored in 2009. His family has been asked if they want his remains repatriated from Russia.