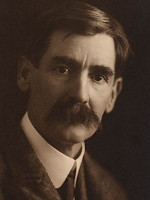 Henry Archibald Hertzberg Lawson (17 June 1867 – 2 September 1922) was an Australian writer and bush poet. Along with his contemporary Banjo Paterson, Lawson is among the best-known Australian poets and fiction writers of the colonial period and is often called Australia's "greatest short story writer".
A vocal nationalist and republican, Lawson regularly contributed to The Bulletin, and many of his works helped popularise the Australian vernacular in fiction. He wrote prolifically into the 1890s, after which his output declined, in part due to struggles with alcoholism and mental illness. At times destitute, he spent periods in Darlinghurst Gaol and psychiatric institutions. After he died in 1922 following a cerebral haemorrhage, Lawson became the first Australian writer to be granted a state funeral.
He was the son of the poet, publisher and feminist Louisa Lawson.