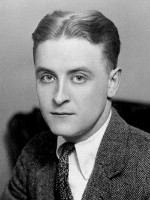 Francis Scott Key Fitzgerald (September 24, 1896 – December 21, 1940) was an American fiction writer, whose works helped to illustrate the flamboyance and excess of the Jazz Age. While he achieved popular success, fame, and fortune in his lifetime, he did not receive much critical acclaim until after his death. Perhaps the most notable member of the "Lost Generation" of the 1920s, Fitzgerald is now widely regarded as one of the greatest American writers of the 20th century. He finished four novels: This Side of Paradise, The Beautiful and Damned, The Great Gatsby, and Tender Is the Night. A fifth, unfinished novel, The Last Tycoon, was published posthumously. Four collections of his short stories were published, as well as 164 short stories in magazines during his lifetime.
Early life
Born in 1896 in Saint Paul, Minnesota, to an upper-middle-class family, Fitzgerald was named after his famous second cousin, three times removed on his father's side, Francis Scott Key, but was always known as Scott Fitzgerald. He was also named after his deceased sister, Louise Scott Fitzgerald, one of two sisters who died shortly before his birth. "Well, three months before I was born," he wrote as an adult, "my mother lost her other two children ... I think I started then to be a writer."
His father, Edward Fitzgerald, was of Irish and English ancestry, and had moved to St. Paul from Maryland after the American Civil War, and was described as "a quiet gentlemanly man with beautiful Southern manners". His mother was Mary "Molly" McQuillan Fitzgerald, the daughter of an Irish immigrant who had made his fortune in the wholesale grocery business. Edward Fitzgerald's first cousin once removed Mary Surratt was hanged in 1865 for conspiring to assassinate Abraham Lincoln.
Scott Fitzgerald spent the first decade of his childhood primarily in Buffalo, New York, occasionally in West Virginia (1898–1901 and 1903–1908) where his father worked for Procter & Gamble, with a short interlude in Syracuse, New York, (between January 1901 and September 1903). Edward Fitzgerald had earlier worked as a wicker furniture salesman; he joined Procter & Gamble when the business failed. His parents, both Catholic, sent Fitzgerald to two Catholic schools on the West Side of Buffalo, first Holy Angels Convent (1903–1904, now disused) and then Nardin Academy (1905–1908). His formative years in Buffalo revealed him to be a boy of unusual intelligence with a keen early interest in literature. His doting mother ensured that her son had all the advantages of an upper-middle-class upbringing. Her inheritance and donations from an aunt allowed the family to live a comfortable lifestyle. In a rather unconventional style of parenting, Fitzgerald attended Holy Angels with the peculiar arrangement that he go for only half a day—and was allowed to choose which half.
In 1908, his father was fired from Procter & Gamble, and the family returned to Minnesota, where Fitzgerald attended St. Paul Academy in St. Paul from 1908 to 1911. When he was 13, he saw his first piece of writing appear in print—a detective story published in the school newspaper. In 1911, when Fitzgerald was 15 years old, his parents sent him to the Newman School, a prestigious Catholic prep school in Hackensack, New Jersey. Fitzgerald played on the 1912 Newman football team. At Newman, he met Father Sigourney Fay, who noticed his incipient talent with the written word and encouraged him to pursue his literary ambitions.
After graduating from the Newman School in 1913, Fitzgerald decided to stay in New Jersey to continue his artistic development at Princeton University. He tried out for the college football team, but was cut the first day of practice. He firmly dedicated himself at Princeton to honing his craft as a writer, and became friends with future critics and writers Edmund Wilson and John Peale Bishop. He wrote for the Princeton Triangle Club, the Nassau Lit, and the Princeton Tiger. He also was involved in the American Whig-Cliosophic Society, which ran the Nassau Lit. His absorption in the Triangle—a kind of musical-comedy society—led to his submission of a novel to Charles Scribner's Sons where the editor praised the writing but ultimately rejected the book. Four of the University's eating clubs sent him bids at midyear, and he chose the University Cottage Club (where Fitzgerald's desk and writing materials are still displayed in its library) known as "the 'Big Four' club that was most committed to the ideal of the fashionable gentleman".
Fitzgerald's writing pursuits at Princeton came at the expense of his coursework, however, causing him to be placed on academic probation, and in 1917 he dropped out of university to join the Army. During the winter of 1917, Fitzgerald was stationed at Fort Leavenworth and was a student of future United States President and General of the Army Dwight Eisenhower whom he intensely disliked. Worried that he might die in the War with his literary dreams unfulfilled, Fitzgerald hastily wrote The Romantic Egotist in the weeks before reporting for duty—and, although Scribners rejected it, the reviewer noted his novel's originality and encouraged Fitzgerald to submit more work in the future.
It was while attending Princeton that Fitzgerald met Chicago socialite and debutante Ginevra King on a visit back home in St. Paul. King and Fitzgerald had a romantic relationship from 1915 to 1917. Immediately infatuated with her, according to Mizner, Fitzgerald "remained devoted to Ginevra as long as she would allow him to", and wrote to her "daily the incoherent, expressive letters all young lovers write". She would become his inspiration for the character of Isabelle Borgé, Amory Blaine's first love in This Side of Paradise, for Daisy in The Great Gatsby, and several other characters in his novels and short stories. After their relationship ended in 1917 Fitzgerald had requested that Ginevra destroy the letters that he had written to her. He never destroyed the letters that King had sent him. After he had passed in 1940 his daughter "Scottie" sent the letters back to King where she kept them until her death. She never shared the letters with anyone.
Hollywood years
In 1926, Fitzgerald was invited by producer John W. Considine, Jr., to temporarily relocate to Hollywood in order to write a flapper comedy for United Artists. Scott and Zelda moved into a studio-owned bungalow in January of the following year and Fitzgerald soon met and began an affair with Lois Moran. The starlet became a temporary muse for the author and he rewrote Rosemary Hoyt, one of the central characters in Tender is the Night, (who had been a male in earlier drafts) to closely mirror her. The trip exacerbated the couple's marital difficulties, and they left Hollywood after two months. In the ensuing years, Zelda became increasingly violent and emotionally distressed, and in 1936, Fitzgerald had her placed in the Highland Hospital in Asheville, North Carolina.
Although he reportedly found movie work degrading, Fitzgerald continued to struggle financially and entered into a lucrative exclusive deal with Metro-Goldwyn-Mayer in 1937, that necessitated him moving to Hollywood, where he earned his highest annual income up to that point: $29,757.87. He also began a high-profile live-in affair with movie columnist Sheilah Graham. The projects Fitzgerald worked on included two weeks' unused dialog work on loanout to David Selznick for Gone with the Wind, and, for MGM, revisions on Madame Curie, for which he received no credits. His only screenplay credit is for Three Comrades. He also spent time during this period working on his fifth and final novel, The Love of the Last Tycoon, published posthumously as The Last Tycoon, based on film executive Irving Thalberg. In 1939, MGM terminated the contract, and Fitzgerald became a freelance screenwriter. During his work on Winter Carnival, Fitzgerald went on an alcoholic binge and was treated by New York psychiatrist Richard H. Hoffmann.
From 1939 until his death in 1940, Fitzgerald mocked himself as a Hollywood hack through the character of Pat Hobby in a sequence of 17 short stories, later collected as "The Pat Hobby Stories", which garnered many positive reviews. The Pat Hobby Stories were originally published in Esquire between January 1940 and July 1941, even after Fitzgerald's death. US Census records show his official address at this time to be the estate of Edward Everett Horton in Encino, California in the San Fernando Valley.
Illness and death
Fitzgerald, an alcoholic since college, became notorious during the 1920s for his extraordinarily heavy drinking, which would undermine his health by the late 1930s. According to Zelda's biographer, Nancy Milford, Fitzgerald claimed that he had contracted tuberculosis, but Milford dismisses it as a pretext to cover his drinking problems; however, Fitzgerald scholar Matthew J. Bruccoli contends that Fitzgerald did in fact have recurring tuberculosis, and according to Milford, Fitzgerald biographer Arthur Mizener said that Fitzgerald suffered a mild attack of tuberculosis in 1919, and in 1929 he had "what proved to be a tubercular hemorrhage". Some have said that the writer's hemorrhage was caused by bleeding from esophageal varices.
Fitzgerald suffered two heart attacks in the late 1930s. After the first, in Schwab's Drug Store, he was ordered by his doctor to avoid strenuous exertion. He moved in with the gossip columnist Sheilah Graham, who lived in Hollywood on North Hayworth Avenue, one block east of Fitzgerald's apartment on North Laurel Avenue. Fitzgerald had two flights of stairs to climb to his apartment; Graham's was on the ground floor. On the night of December 20, 1940, Fitzgerald and Graham attended the premiere of This Thing Called Love starring Rosalind Russell and Melvyn Douglas. As the two were leaving the Pantages Theater, Fitzgerald experienced a dizzy spell and had trouble walking; upset, he said to Graham, "They think I am drunk, don't they?"
The following day, as Fitzgerald ate a candy bar and made notes in his newly arrived Princeton Alumni Weekly, Graham saw him jump from his armchair, grab the mantelpiece, gasp, and fall to the floor. She ran to the manager of the building, Harry Culver, founder of Culver City. Upon entering the apartment to assist Fitzgerald, he stated, "I'm afraid he's dead." Fitzgerald had died of a heart attack at the age of 44. Dr. Clarence H. Nelson, Fitzgerald's physician, signed the death certificate. Fitzgerald's body was moved to the Pierce Brothers Mortuary.
Among the attendees at a visitation held at a funeral home was Dorothy Parker, who reportedly cried and murmured "the poor son-of-a-bitch", a line from Jay Gatsby's funeral in Fitzgerald's The Great Gatsby. His body was transported to Maryland, where his funeral was attended by twenty or thirty people in Bethesda; among the attendees were his only child, Frances "Scottie" Fitzgerald Lanahan Smith (then aged 19), and his editor, Maxwell Perkins.
At the time of his death, the Roman Catholic Church denied the family's request that Fitzgerald, a non-practicing Catholic, be buried in the family plot in the Catholic Saint Mary's Cemetery in Rockville, Maryland. Fitzgerald was instead buried at Rockville Union Cemetery. When Zelda Fitzgerald died in 1948, in a fire at the Highland Mental Hospital in Asheville, North Carolina, she was originally buried next to him at Rockville Union. Only one photograph of the original gravesite is known to exist. It was taken in 1970 by Fitzgerald scholar Richard Anderson and was first published as part of an essay by fellow-scholar Bryant Mangum, "An Affair of Youth: in search of flappers, belles, and the first grave of the Fitzgeralds", in Broad Street Magazine in 2016. In 1975, their daughter Scottie successfully petitioned to have the earlier decision revisited and her parents' remains were moved to the family plot in Saint Mary's.
Fitzgerald died before he could complete The Last Tycoon. His manuscript, which included extensive notes for the unwritten part of the novel's story, was edited by his friend, the literary critic Edmund Wilson, and published in 1941 as The Last Tycoon. In 1994 the book was reissued under the original title The Love of The Last Tycoon, which is now agreed to have been Fitzgerald's preferred title.
In 2015, an editor of The Strand Magazine discovered and published for the first time an 8,000-word manuscript, dated July 1939, of a Fitzgerald short-story titled "Temperature". Long thought lost, Fitzgerald's manuscript for the story was found in the rare books and manuscript archives at Princeton University, Fitzgerald's alma mater. As described by Strand, "Temperature", set in Los Angeles, tells the story of the failure, illness and decline of a once successful writer and his life among Hollywood idols, while suffering lingering fevers and indulging in light-hearted romance. The protagonist is a 31-year-old self-destructive, alcoholic named Emmet Monsen, whom Fitzgerald describes in his story as "notably photogenic, slender and darkly handsome". It tells of his personal relationships as his health declines with various doctors, personal assistants, and a Hollywood actress who is his lover. "As for that current dodge 'No reference to any living character is intended' – no use even trying that", Fitzgerald writes at the beginning of the story. Fitzgerald bibliographies have previously listed the story, sometimes referred to as "The Women in the House", as "unpublished", or as "Lost – mentioned in correspondence, but no surviving transcript or manuscript".