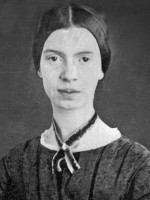 Emily Elizabeth Dickinson (December 10, 1830 – May 15, 1886) was an American poet.
Dickinson was born in Amherst, Massachusetts, into a prominent family with strong ties to its community. After studying at the Amherst Academy for seven years in her youth, she briefly attended the Mount Holyoke Female Seminary before returning to her family's house in Amherst.
Evidence suggests that Dickinson lived much of her life in isolation. Considered an eccentric by locals, she developed a penchant for white clothing and was known for her reluctance to greet guests or, later in life, to even leave her bedroom. Dickinson never married, and most friendships between her and others depended entirely upon correspondence.
While Dickinson was a prolific poet, fewer than a dozen of her nearly 1,800 poems were published during her lifetime. The poems published then, were usually edited significantly to fit conventional poetic rules. Her poems were unique in her era. They contain short lines, typically lack titles, and often use slant rhyme as well as unconventional capitalization and punctuation. Many of her poems deal with themes of death and immortality, two recurring topics in letters to her friends.
Although Dickinson's acquaintances were likely aware of her writing, it was not until after her death in 1886—when Lavinia, Dickinson's younger sister, discovered her cache of poems—that the breadth of her work became public. Her first collection of poetry was published in 1890 by personal acquaintances Thomas Wentworth Higginson and Mabel Loomis Todd, though both heavily edited the content. A 1998 New York Times article revealed that of the many edits made to Dickinson's work, the name "Susan" was often deliberately removed. At least 11 of Dickinson's poems were dedicated to sister-in-law Susan Huntington Gilbert Dickinson, though all the dedications were obliterated, presumably by Todd. A complete, and mostly unaltered, collection of her poetry became available for the first time when scholar Thomas H. Johnson published The Poems of Emily Dickinson in 1955.
Early Life
Her teachers saw her talent for writing. But she did not win any literary awards during her lifetime. Some didn't like her work because of its different use of grammar. In her late twenties, she chose to stay with her family for most of her time.
Her father was a United States Senator. Edward Dickinson was a lawyer from the Whig party. Emily's family did not get along with each other. She described her mother as cold and unloving. Some researchers said that her father didn't support female scholars. Dickinson never married. She did have strong relationships with several men as friends, confidantes, and mentors. She also enjoyed an close relationship with her friend and sister-in law.
End of her life
She was sick with some health problems, like depression and anxiety disorders. Later in her life, she began to suffer from pain in her eyes and sensitivity to light. She died at the age of 55 from a stroke. She was buried in the West Cemetery, in Amherst, MA.
Legacy
In the early 20th century, Martha Dickinson Bianchi and Millicent Todd Bingham kept the achievement of Emily Dickinson alive. Bianchi promoted Dickinson's poetic achievement. Bianchi inherited The Evergreens as well as the copyright for her aunt's poetry from her parents, publishing works such as Emily Dickinson Face to Face and Letters of Emily Dickinson, which stoked public curiosity about her aunt. Bianchi's books perpetrated legends about her aunt in the context of family tradition, personal recollection and correspondence. In contrast, Millicent Todd Bingham's took a more objective and realistic approach to the poet.
Emily Dickinson is now considered a powerful and persistent figure in American culture. Although much of the early reception concentrated on Dickinson's eccentric and secluded nature, she has become widely acknowledged as an innovative, proto-modernist poet. As early as 1891, William Dean Howells wrote that "If nothing else had come out of our life but this strange poetry, we should feel that in the work of Emily Dickinson, America, or New England rather, had made a distinctive addition to the literature of the world, and could not be left out of any record of it." Critic Harold Bloom has placed her alongside Walt Whitman, Wallace Stevens, Robert Frost, T. S. Eliot, and Hart Crane as a major American poet, and in 1994 listed her among the 26 central writers of Western civilization.