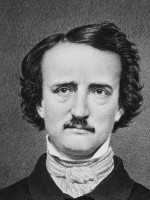 Edgar Allan Poe (/poʊ/; born Edgar Poe; January 19, 1809 – October 7, 1849) was an American writer, poet, editor, and literary critic. Poe is best known for his poetry and short stories, particularly his tales of mystery and the macabre. He is widely regarded as a central figure of Romanticism in the United States, and of American literature. Poe was one of the country's earliest practitioners of the short story, and considered to be the inventor of the detective fiction genre, as well as a significant contributor to the emerging genre of science fiction. Poe was the first well-known American writer to earn a living through writing alone, resulting in a financially difficult life and career.
Poe was born in Boston, the second child of actors David and Elizabeth "Eliza" Poe. His father abandoned the family in 1810, and when his mother died the following year, Poe was taken in by John and Frances Allan of Richmond, Virginia. They never formally adopted him, but he was with them well into young adulthood. He attended the University of Virginia but left after a year due to lack of money. He quarreled with Allan over the funds for his education, and his gambling debts. In 1827, having enlisted in the United States Army under an assumed name, he published his first collection Tamerlane and Other Poems, credited only to "a Bostonian". Poe and Allan reached a temporary rapprochement after the death of Allan's wife in 1829. Poe later failed as an officer cadet at West Point, declared a firm wish to be a poet and writer, and parted ways with Allan.
Poe switched his focus to prose and spent the next several years working for literary journals and periodicals, becoming known for his own style of literary criticism. His work forced him to move among several cities, including Baltimore, Philadelphia, and New York City. In 1836, he married his 13-year-old cousin, Virginia Clemm, but she died of tuberculosis in 1847. In January 1845, Poe published his poem "The Raven" to instant success. He planned for years to produce his own journal The Penn (later renamed The Stylus), but before it could be produced, he died in Baltimore on October 7, 1849, at age 40, under mysterious circumstances. The cause of his death remains unknown, and has been variously attributed to many causes including disease, alcoholism, substance abuse, and suicide.
Poe and his works influenced literature around the world, as well as specialized fields such as cosmology and cryptography. He and his work appear throughout popular culture in literature, music, films, and television. A number of his homes are dedicated museums today. The Mystery Writers of America present an annual award known as the Edgar Award for distinguished work in the mystery genre.
Publishing career
After his brother's death, Poe began more earnest attempts to start his career as a writer, but he chose a difficult time in American publishing to do so. He was one of the first Americans to live by writing alone and was hampered by the lack of an international copyright law. American publishers often produced unauthorized copies of British works rather than paying for new work by Americans. The industry was also particularly hurt by the Panic of 1837. There was a booming growth in American periodicals around this time, fueled in part by new technology, but many did not last beyond a few issues. Publishers often refused to pay their writers or paid them much later than they promised, and Poe repeatedly resorted to humiliating pleas for money and other assistance.
After his early attempts at poetry, Poe had turned his attention to prose, likely based on John Neal's critiques in The Yankee magazine. He placed a few stories with a Philadelphia publication and began work on his only drama Politian. The Baltimore Saturday Visiter awarded him a prize in October 1833 for his short story "MS. Found in a Bottle". The story brought him to the attention of John P. Kennedy, a Baltimorean of considerable means who helped Poe place some of his stories and introduced him to Thomas W. White, editor of the Southern Literary Messenger in Richmond. Poe became assistant editor of the periodical in August 1835, but White discharged him within a few weeks for being drunk on the job. Poe returned to Baltimore where he obtained a license to marry his cousin Virginia on September 22, 1835, though it is unknown if they were married at that time. He was 26 and she was 13.
Poe was reinstated by White after promising good behavior, and he went back to Richmond with Virginia and her mother. He remained at the Messenger until January 1837. During this period, Poe claimed that its circulation increased from 700 to 3,500. He published several poems, book reviews, critiques, and stories in the paper. On May 16, 1836, he and Virginia held a Presbyterian wedding ceremony performed by Amasa Converse at their Richmond boarding house, with a witness falsely attesting Clemm's age as 21.
Poe's novel The Narrative of Arthur Gordon Pym of Nantucket was published and widely reviewed in 1838. In the summer of 1839, Poe became assistant editor of Burton's Gentleman's Magazine. He published numerous articles, stories, and reviews, enhancing his reputation as a trenchant critic which he had established at the Messenger. Also in 1839, the collection Tales of the Grotesque and Arabesque was published in two volumes, though he made little money from it and it received mixed reviews.
In June 1840, Poe published a prospectus announcing his intentions to start his own journal called The Stylus, although he originally intended to call it The Penn, as it would have been based in Philadelphia. He bought advertising space for his prospectus in the June 6, 1840 issue of Philadelphia's Saturday Evening Post: "Prospectus of the Penn Magazine, a Monthly Literary journal to be edited and published in the city of Philadelphia by Edgar A. Poe." The journal was never produced before Poe's death.
Poe left Burton's after about a year and found a position as writer and co-editor at the then-very-successful monthly Graham's Magazine. In the last number of Graham's for 1841, Poe was among the co-signatories to an editorial note of celebration of the tremendous success that magazine had achieved in the past year: "Perhaps the editors of no magazine, either in America or in Europe, ever sat down, at the close of a year, to contemplate the progress of their work with more satisfaction than we do now. Our success has been unexampled, almost incredible. We may assert without fear of contradiction that no periodical ever witnessed the same increase during so short a period."
Around this time, Poe attempted to secure a position within the administration of President John Tyler, claiming that he was a member of the Whig Party. He hoped to be appointed to the United States Custom House in Philadelphia with help from President Tyler's son Robert, an acquaintance of Poe's friend Frederick Thomas. Poe failed to show up for a meeting with Thomas to discuss the appointment in mid-September 1842, claiming to have been sick, though Thomas believed that he had been drunk. Poe was promised an appointment, but all positions were filled by others.
One evening in January 1842, Virginia showed the first signs of consumption, now known as tuberculosis, while singing and playing the piano, which Poe described as breaking a blood vessel in her throat. She only partially recovered, and Poe began to drink more heavily under the stress of her illness. He left Graham's and attempted to find a new position, for a time angling for a government post. He returned to New York where he worked briefly at the Evening Mirror before becoming editor of the Broadway Journal, and later its owner. There Poe alienated himself from other writers by publicly accusing Henry Wadsworth Longfellow of plagiarism, though Longfellow never responded. On January 29, 1845, his poem "The Raven" appeared in the Evening Mirror and became a popular sensation. It made Poe a household name almost instantly, though he was paid only $9 for its publication. It was concurrently published in The American Review: A Whig Journal under the pseudonym "Quarles".
The Broadway Journal failed in 1846, and Poe moved to a cottage in Fordham, New York, in what is now the Bronx. That home is now known as the Edgar Allan Poe Cottage, relocated to a park near the southeast corner of the Grand Concourse and Kingsbridge Road. Nearby, Poe befriended the Jesuits at St. John's College, now Fordham University. Virginia died at the cottage on January 30, 1847. Biographers and critics often suggest that Poe's frequent theme of the "death of a beautiful woman" stems from the repeated loss of women throughout his life, including his wife.
Poe was increasingly unstable after his wife's death. He attempted to court poet Sarah Helen Whitman who lived in Providence, Rhode Island. Their engagement failed, purportedly because of Poe's drinking and erratic behavior. There is also strong evidence that Whitman's mother intervened and did much to derail their relationship. Poe then returned to Richmond and resumed a relationship with his childhood sweetheart Sarah Elmira Royster.
Death
On October 3, 1849, Poe was found delirious on the streets of Baltimore, "in great distress, and... in need of immediate assistance", according to Joseph W. Walker, who found him. He was taken to the Washington Medical College, where he died on Sunday, October 7, 1849, at 5:00 in the morning. Poe was not coherent long enough to explain how he came to be in his dire condition and was wearing clothes that were not his own. He is said to have repeatedly called out the name "Reynolds" on the night before his death, though it is unclear to whom he was referring. Some sources say that Poe's final words were, "Lord help my poor soul". All medical records have been lost, including Poe's death certificate.
Newspapers at the time reported Poe's death as "congestion of the brain" or "cerebral inflammation", common euphemisms for death from disreputable causes such as alcoholism. The actual cause of death remains a mystery. Speculation has included delirium tremens, heart disease, epilepsy, syphilis, meningeal inflammation, cholera, carbon monoxide poisoning, and rabies. One theory dating from 1872 suggests that cooping was the cause of Poe's death, a form of electoral fraud in which citizens were forced to vote for a particular candidate, sometimes leading to violence and even murder.
List of selected works