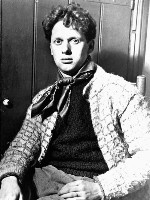 Dylan Marlais Thomas (27 October 1914 – 9 November 1953) was a Welsh poet and writer whose works include the poems "Do not go gentle into that good night" and "And death shall have no dominion"; the "play for voices" Under Milk Wood; and stories and radio broadcasts such as A Child's Christmas in Wales and Portrait of the Artist as a Young Dog. He became widely popular in his lifetime and remained so after his death at the age of 39 in New York City. By then he had acquired a reputation, which he had encouraged, as a "roistering, drunken and doomed poet".
Thomas was born in Swansea, Wales, in 1914. In 1931, when he was 16, Thomas, an undistinguished pupil, left school to become a reporter for the South Wales Daily Post, only to leave under pressure 18 months later. Many of his works appeared in print while he was still a teenager. In 1934, the publication of "Light breaks where no sun shines" caught the attention of the literary world. While living in London, Thomas met Caitlin Macnamara. They married in 1937 and had three children: Llewelyn, Aeronwy and Colm.
Thomas came to be appreciated as a popular poet during his lifetime, though he found earning a living as a writer was difficult. He began augmenting his income with reading tours and radio broadcasts. His radio recordings for the BBC during the late 1940s brought him to the public's attention, and he was frequently used by the BBC as an accessible voice of the literary scene.
Thomas first travelled to the United States in the 1950s. His readings there brought him a degree of fame, while his erratic behaviour and drinking worsened. His time in the United States cemented his legend, however, and he went on to record to vinyl such works as A Child's Christmas in Wales. During his fourth trip to New York in 1953, Thomas became gravely ill and fell into a coma. He died on 9 November 1953 and his body was returned to Wales. On 25 November 1953, he was interred at St Martin's churchyard in Laugharne, Carmarthenshire.
Although Thomas wrote exclusively in the English language, he has been acknowledged as one of the most important Welsh poets of the 20th century. He is noted for his original, rhythmic and ingenious use of words and imagery. His position as one of the great modern poets has been much discussed, and he remains popular with the public.