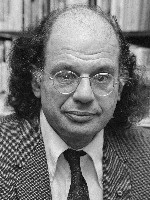 Irwin Allen Ginsberg (June 3, 1926 – April 5, 1997) was an American poet, philosopher, and writer. As a Columbia University college student in the 1940s, he began friendships with William S. Burroughs and Jack Kerouac, forming the core of the Beat Generation. He vigorously opposed militarism, economic materialism, and sexual repression, and he embodied various aspects of this counterculture with his views on drugs, hostility to bureaucracy, and openness to Eastern religions.
Ginsberg is best known for his poem "Howl" in which he denounced what he saw as the destructive forces of capitalism and conformity in the United States. San Francisco police and US Customs seized "Howl" in 1956, and it attracted widespread publicity in 1957 when it became the subject of an obscenity trial, as it described heterosexual and homosexual sex at a time when sodomy laws made homosexual acts a crime in every state. The poem reflected Ginsberg's own sexuality and his relationships with a number of men, including Peter Orlovsky, his lifelong partner. Judge Clayton W. Horn ruled that "Howl" was not obscene: "Would there be any freedom of press or speech if one must reduce his vocabulary to vapid innocuous euphemisms?"
Ginsberg was a Buddhist who studied Eastern religious disciplines extensively. He lived modestly, buying his clothing in second-hand stores and residing in apartments in New York's East Village. One of his most influential teachers was Tibetan Buddhist Chögyam Trungpa, the founder of the Naropa Institute in Boulder, Colorado. At Trungpa's urging, Ginsberg and poet Anne Waldman started The Jack Kerouac School of Disembodied Poetics there in 1974.
Ginsberg took part in decades of political protest against everything from the Vietnam War to the War on Drugs. His poem "September on Jessore Road" called attention to the plight of Bangladeshi refugees and exemplifies what literary critic Helen Vendler described as Ginsberg's persistence in protesting against "imperial politics" and "persecution of the powerless". His collection The Fall of America shared the annual National Book Award for Poetry in 1974. In 1979, he received the National Arts Club gold medal and was inducted into the American Academy of Arts and Letters. He was a Pulitzer Prize finalist in 1995 for his book Cosmopolitan Greetings: Poems 1986–1992.
Early life and family
Ginsberg was born into a Jewish family in Newark, New Jersey, and grew up in nearby Paterson. He was the second son of Louis Ginsberg, a schoolteacher and sometime poet, and the former Naomi Levy, a Russian emigree and fervent Marxist.
As a teenager, Ginsberg began to write letters to The New York Times about political issues, such as World War II and workers' rights. While in high school, Ginsberg became interested in the works of Walt Whitman, inspired by his teacher's passionate reading. In 1943, Ginsberg graduated from Eastside High School and briefly attended Montclair State College before entering Columbia University on a scholarship from the Young Men's Hebrew Association of Paterson.
In 1945, he joined the Merchant Marine to earn money to continue his education at Columbia. While at Columbia, Ginsberg contributed to the Columbia Review literary journal, the Jester humor magazine, won the Woodberry Poetry Prize, served as president of the Philolexian Society (literary and debate group), and joined Boar's Head Society (poetry society). Ginsberg has stated that he considered his required freshman seminar in Great Books, taught by Lionel Trilling, to be his favorite Columbia course.
According to The Poetry Foundation, Ginsberg spent several months in a mental institution after he pleaded insanity during a hearing. He was allegedly being prosecuted for harboring stolen goods in his dorm room. It was noted that the stolen property was not his, but belonged to an acquaintance.
Illness and death
In 1960, he was treated for a tropical disease, and it is speculated that he contracted hepatitis from an unsterilized needle administered by a doctor, which played a role in his death 37 years later. Ginsberg was a lifelong smoker, and though he tried to quit for health and religious reasons, his busy schedule in later life made it difficult, and he always returned to smoking.
In the 1970s, Ginsberg suffered two minor strokes which were first diagnosed as Bell's palsy, which gave him significant paralysis and stroke-like drooping of the muscles in one side of his face.
Later in life, he also suffered constant minor ailments such as high blood pressure. Many of these symptoms were related to stress, but he never slowed down his schedule.
Ginsberg won a 1974 National Book Award for The Fall of America (split with Adrienne Rich, Diving into the Wreck).
In 1986, Ginsberg was awarded the Golden Wreath by the Struga Poetry Evenings International Festival in Macedonia, the second American poet to be so awarded since W.H. Auden. At Struga, he met with the other Golden Wreath winners Bulat Okudzhava and Andrei Voznesensky.
In 1993, the French Minister of Culture made him a Chevalier des Arts et des Lettres.
Ginsberg continued to help his friends as much as he could: he gave money to Herbert Huncke out of his own pocket, regularly supplied neighbor Arthur Russell with an extension cord to power his home recording setup, and housed a broke, drug-addicted Harry Smith.
With the exception of a special guest appearance at the NYU Poetry Slam on February 20, 1997, Ginsberg gave what is thought to be his last reading at The Booksmith in San Francisco on December 16, 1996.
After returning home from the hospital for the last time, where he had been unsuccessfully treated for congestive heart failure, Ginsberg continued making phone calls to say goodbye to nearly everyone in his address book. Some of the phone calls, including one with Johnny Depp, were sad and interrupted by crying, and others were joyous and optimistic. Ginsberg continued to write through his final illness, with his last poem, "Things I'll Not Do (Nostalgias)", written on March 30.
He died on April 5 surrounded by family and friends in his East Village loft in New York City, succumbing to liver cancer via complications of hepatitis. He was 70 years old.
Gregory Corso, Roy Lichtenstein, Patti Smith and others came by to pay their respects.
Ginsberg's ashes were buried in his family plot in Gomel Chesed Cemetery in Newark, NJ. He was survived by Orlovsky.
In 1998, various writers, including Catfish McDaris read at a gathering at Ginsberg's farm to honor Allen and the beatniks.
Good Will Hunting (released in December 1997) was dedicated to Ginsberg, as well as Burroughs, who died four months later.